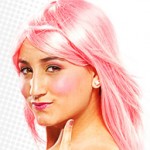 Ashley Cutrona is an actress who played the role of Zita Wiggs, one of the Wiggies in "Standing Ovation."
Ashley has received acting training at the Fine and Performing Arts Academy, the WB-Ryan Acting Studio in Atlantic City, New Jersey and the Lee Strasberg Institute in New York City. She is studying under vocal coach Sal Dupree.
Ashley has had a wide range of vocal training, including pop music and classical/theatre song study. Ashley's television appearances include "Law & Order" and "The Manhattan Diaries." Her other film credits include "The Roadhouse", which is currently in production.
Ashley has been nominated for the Perry Award for the "Best Young Actress in a Play" and for the Governor's School of the Arts for Musical Theatre.
Ad blocker interference detected!
Wikia is a free-to-use site that makes money from advertising. We have a modified experience for viewers using ad blockers

Wikia is not accessible if you've made further modifications. Remove the custom ad blocker rule(s) and the page will load as expected.