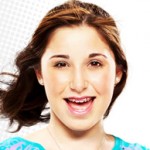 Kayla Raparelli (from South Hampton, New Jersey) is an actress who played the role of Cameron in "Standing Ovation."
Kayla has been taking dance lessons since she was 3 years old and has been singing since she was 6 years old. When she was 5 years old, Kayla won the "Miss East Coast USA" pageant and went on to win the "Miss New Jersey Sweetheart Division" for American Co-ed Pageants.
Kayla loves to donate her time at local hospitals and she also tutors underclassmen at school. She is number one in the country for Language Arts Placement and serves on her school's student council and the National Junior Honor Society.