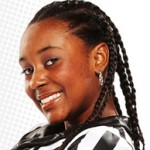 Najee Wilson (born Najee Brieyanna Wilson on June 6, 1995 in Vineland, New Jersey) was an actress who portrayed the role of Maya in "Standing Ovation."
Biography
Edit
Najee began singing at St. Matthews Baptist Church where she became involved in the youth ministry. She was trained by Sal Dupree and performed on stage in shows such as "The Piano Lesson," "Unhappily Ever After" and "Aladdin Junior."
Najee wrote an original song called "Love Letter", sang the National Anthem for many sporting events and opened up for Smokey Robinson at the 17th annual Concert for Kids (which was hosted by the Boys and Girls Club of New Jersey) at the Performing Arts Center in Newark, New Jersey.
Najee was a weekly evening radio personality on WNJC 1360 am. and attended college at Cumberland County College, studying biology. At college, she met her fiance, Kennie Williams Jr. and on February 13, 2016, she gave birth to a son, Kennie "Trey" Williams III.
On August 14, 2016, Najee passed away from undisclosed causes. She was 21 years old at the time of her death.
She is survived by her fiance, son, mother Beatrice Darby, stepfather Eric Darby, father Marc Wilson and stepmother Tracey Wilson, her siblings Andrea Watkins (Dwayne Watkins), Erika Darby, Marcus Wilson & Michael Wilson, her grandparents Edward Garlic (deceased BettyAnn Garlic), Lois Perren (deceased James Wilson) and various of aunts, uncles, nieces, family and friends.