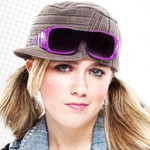 Pilar Martin (born Pilar Martinez from Moorestown, New Jersey) is an actress who played the role of Blaze in "Standing Ovation."
Biography
Edit
Pilar had studied under vocal coach Sal Dupree, trained at the Walnut Street Acting Theater Acting School and The Acting Center.
Her stage credits include "The Christmas Spectacular" with the Community Theater in New York, "Sleeping Beauty," and "Snow White and the Seven Dwarfs." Her television credits include the "Guinness World Record Special" on the Food Network and on "Comcast Interactive TV On Demand."
Currently (according to her Facebook), Pilar works in Artist Relations at Visionary Media. She studied at the New York Film Academy.